Adobe has developed an experimental AI-powered upscaling tool that greatly improves the quality of low-resolution GIFs and video footage. This isn't a fully-fledged app or feature yet, and it's not yet available for beta testing, but if the demonstrations seen by The Verge are anything to go by then it has some serious potential.

Adobe's "Project Res-Up" uses diffusion-based upsampling technology (a class of generative AI that generates new data based on the data it's trained on) to increase video resolution while simultaneously improving sharpness and detail.

In a side-by-side comparison that shows how the tool can upscale video resolution, Adobe took a clip from The Red House (1947) and upscaled it from 480 x 360 to 1280 x 960, increasing the total pixel count by 675 percent. The resulting footage was much sharper, with the AI removing most of the blurriness and even adding in new details like hair strands and highlights. The results still carried a slightly unnatural look (as many AI video and images do) but given the low initial video quality, it's still an impressive leap compared to the upscaling on Nvidia's TV Shield or Microsoft's Video Super Resolution.

The footage below provided by Adobe matches what I saw in the live demonstration:

Another demonstration showed a video being cropped to focus on a baby elephant, with the upscaling tool similarly boosting the low-resolution crop and eradicating most of the blur while also adding little details like skin wrinkles. It really does look as though the tool is sharpening low-contrast details that can't be seen in the original footage. Impressively, the artificial wrinkles move naturally with the animal without looking overly artificial. Adobe also showed Project Res-Up upscaling GIFs to breathe some new life into memes you haven't used since the days of MySpace.

The project will be revealed during the "Sneaks" section of the Adobe Max event later today, which the creative software giant uses to showcase future technologies and ideas that could potentially join Adobe's product lineup. That means you won't be able to try out Project Res-Up on your old family videos (yet) but its capabilities could eventually make their way into popular editing apps like Adobe Premiere Pro or Express. Previous Adobe Sneaks have since been released as apps and features, like Adobe Fresco and Photoshop's content-aware tool.
Source: Adobe previews AI upscaling to make blurry videos and GIFs look fresh – The Verge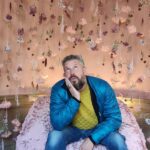 Robin Edgar
Organisational Structures | Technology and Science | Military, IT and Lifestyle consultancy | Social, Broadcast & Cross Media | Flying aircraft