Suddenly in December 2019, booknooks were discovered:
Take a look behind the 'small doors to imaginary spaces' within bookshelves – BBC News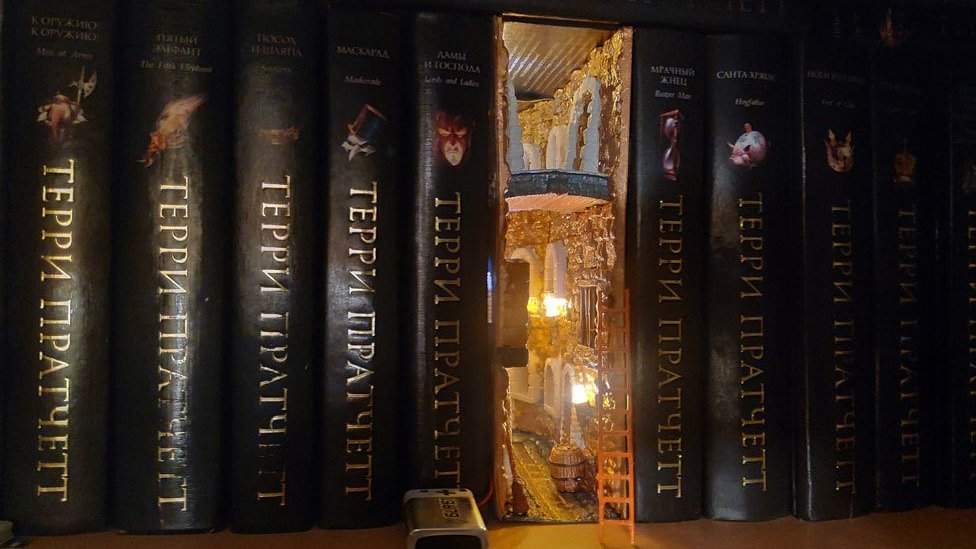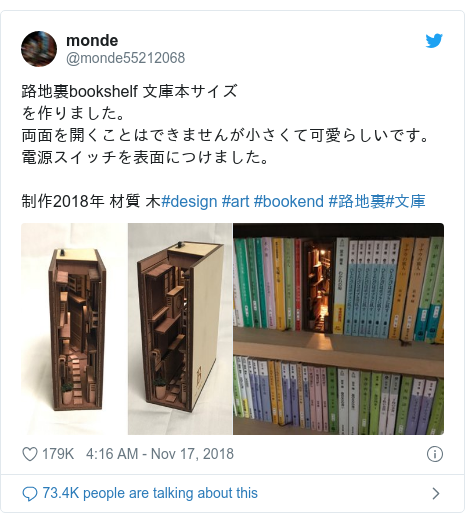 Image Copyright @monde55212068 @monde55212068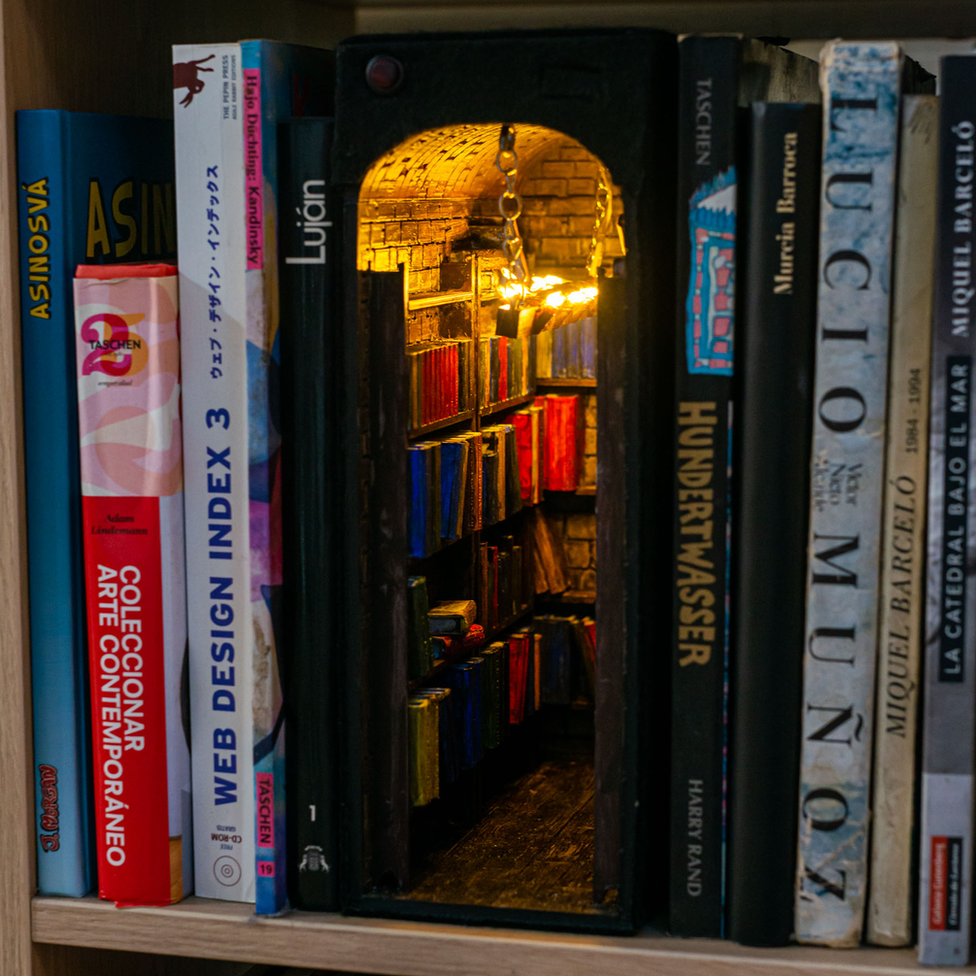 And Bored Panda had a look at 33 Bookshelf Inserts That Book Lovers Will Appreciate
Unfortunately the term Booknook is not yet a keyword, so when searching you will find loads of other stuff you're not looking for. So here Is some stuff I have found for you:
To Buy
Etsy:
Old town Japan miniature diorama bookend booknook shelf insert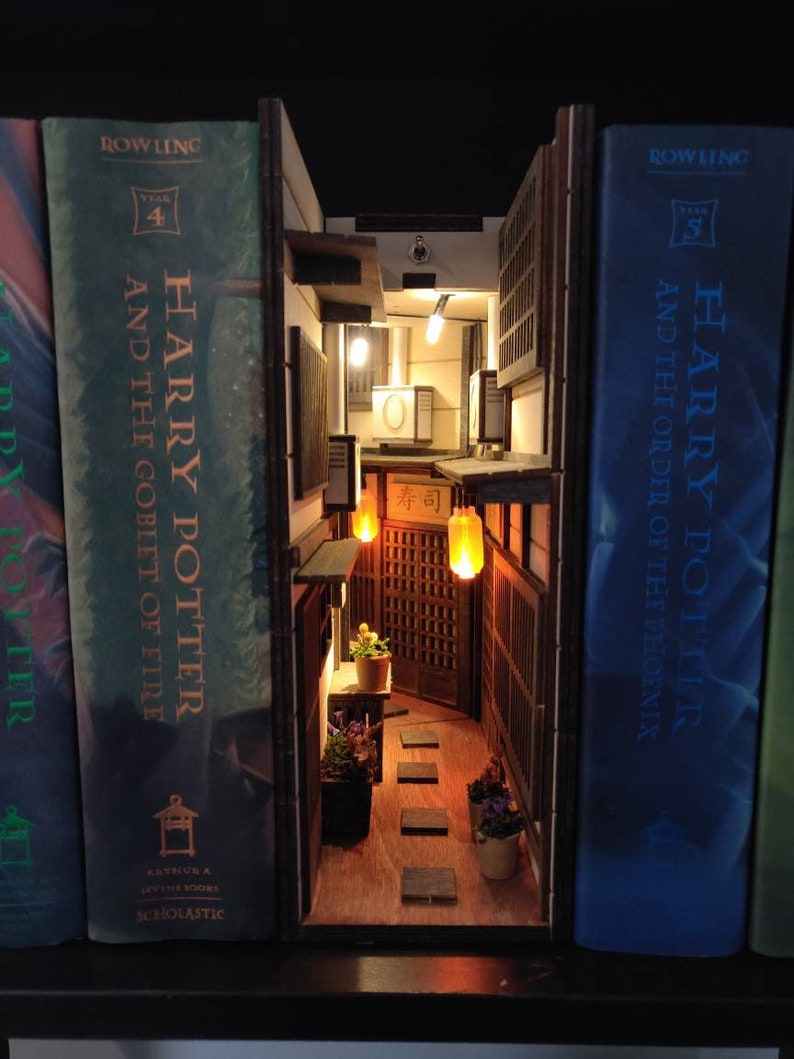 Book Nook – Book Shelf Insert – Book Shelf Decoration – Bookend (Wood)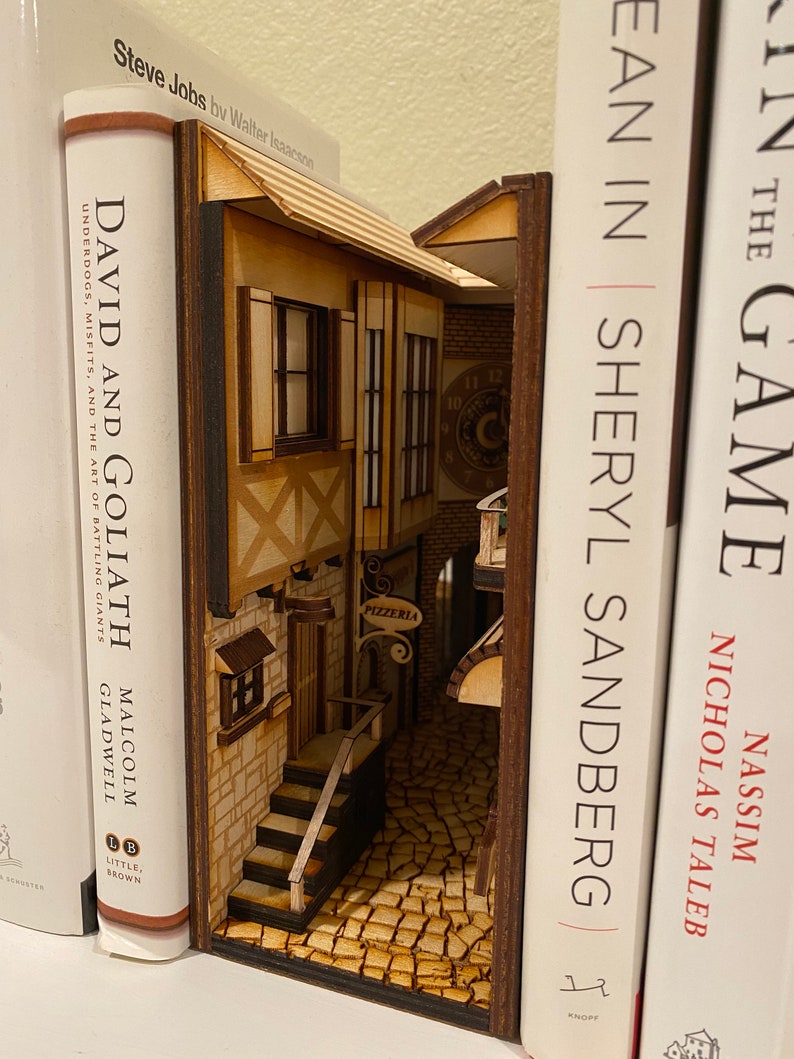 Book nook bookshelf insert art Hidden world of old Italy patio – Booknook alley is original book lover gift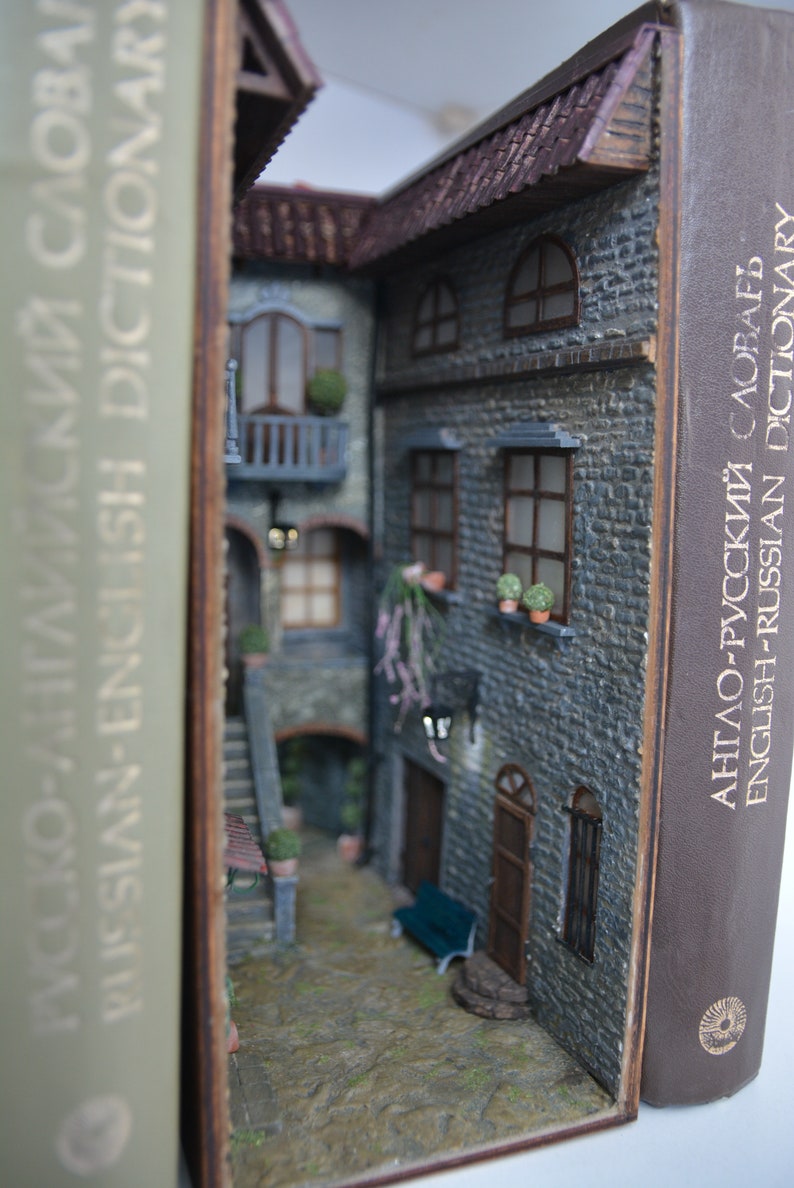 Whimsical themed booknook shelf insert.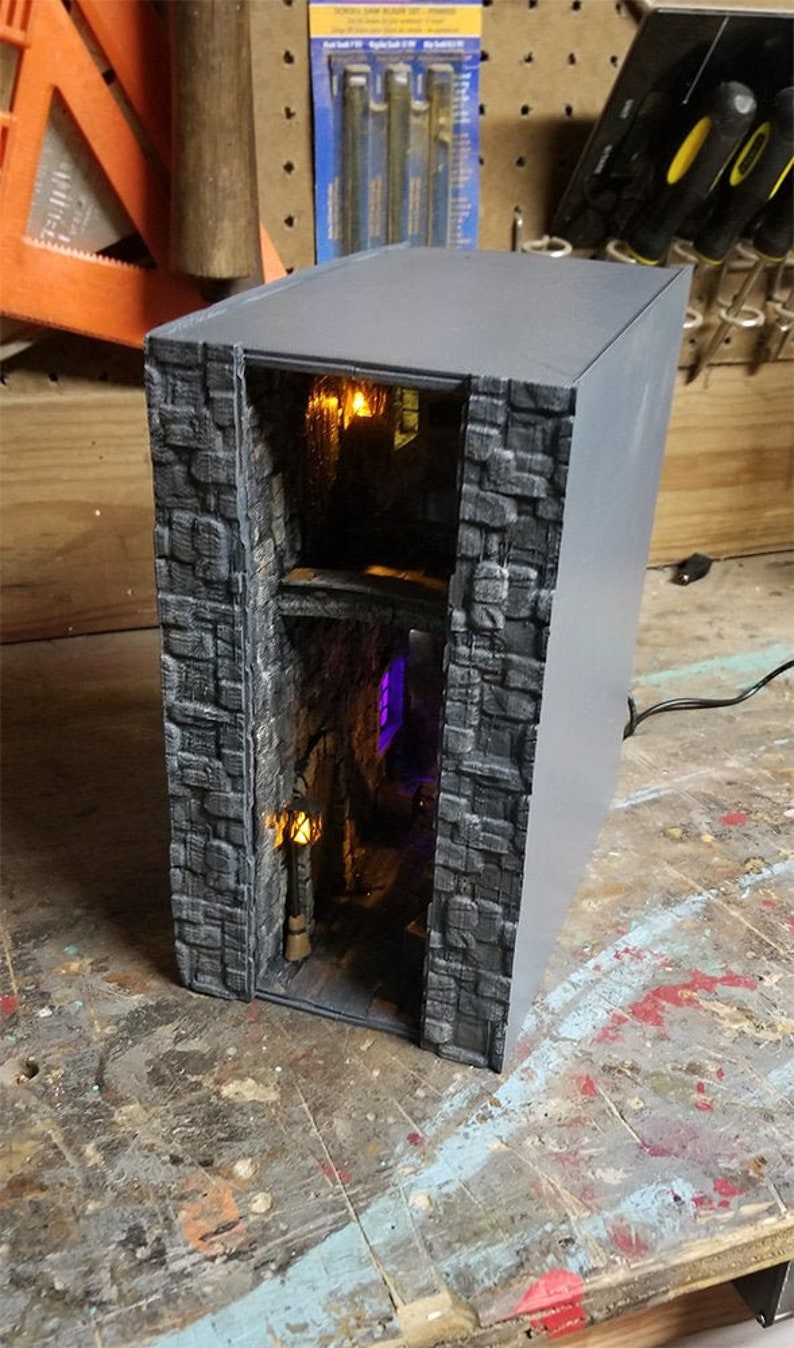 Ebay
LEMAX Caddington Village Joseph Marley Antiques Victors Book Nook Lighted House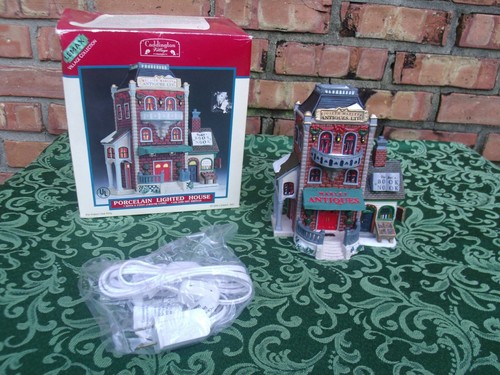 LEMAX 2004 Sutton's Folk Art and Crafts + Marley Antiques/Victor's Book Nook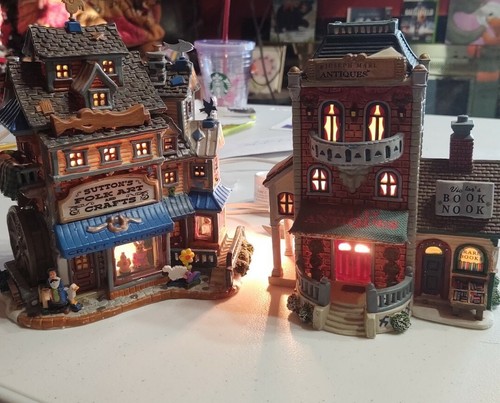 Smaller sellers
Japan Old Town Booknook Shelf Insert
Wizard Alley Booknook – A cozy wizard shopping alley on your bookshelf (Kickstarter)
Making your Own
People seem to make these mainly from wood or plastic. 3D printing is a thing, so on Thingiverse, some people are sharing their designs so you can print your own (and then paint it yourself)
3D Models
AlphaLyr's Booknook contains a right wall, left wall, lantern and 2 signs
kborisov's Fantasy Bookshelf Insert includes two bridge halves, cobbles, objects and left and right walls.
FiveNights has a Bookshelf Insert – Magic Book
FiveNights also has a different version, Magic Book II
Cardboard and plastics
A Cardboard Alley Bookshelf Howto
Warhammer 40k plastic model
Inspiration
Reddit has a few subreddits worth visiting:
/r/guidebooknook/ A guidebook for booknooks. DIY, design tips, STL files and ideas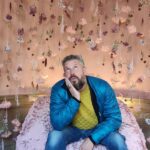 Robin Edgar
Organisational Structures | Technology and Science | Military, IT and Lifestyle consultancy | Social, Broadcast & Cross Media | Flying aircraft