In response to criticism suggesting that the ban on short selling implemented on Nov. 6 is a "political decision" aimed at next year's general election, Lee Bok-hyun, the head of the Financial Supervisory Service (FSS), directly refuted the claims, stating, "About 100 stocks were identified as targets for naked short selling." He said that it was a decisive measure to uproot rampant illegal short selling in the stock market.

[…]

"Currently, around 100 stocks, regardless of whether they are listed on the KOSPI or KOSDAQ, have been identified as subjects of naked, or illegal, short selling, and additional investigations are ongoing."

[…]

He described the current situation regarding short selling as, "Not just a street with many broken windows, but rather a market where illegality has become so widespread that all the windows are shattered."
[…]
Source: Financial Regulator Chief: About 100 Stocks Targeted in Naked Short Selling, Indicating Pervasive Illegality – Businesskorea
Naked shorting is the illegal practice of short-selling shares that have not been affirmatively determined to exist. Ordinarily, traders must borrow a stock or determine that it can be borrowed before they sell it short. So naked shorting refers to short pressure on a stock that may be larger than the tradable shares in the market.

Despite being made illegal after the 2008–09 financial crisis, naked shorting continues to happen because of loopholes in rules and discrepancies between paper and electronic trading systems.
Source: What Is Naked Short Selling, How Does It Work, and Is It Legal?
This and dark pool trading well all exposed by the GameStop / #GME explosion a few years ago. It's nice to see someone finally taking it seriously, even if it is Korea and not the USA.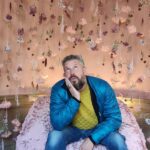 Robin Edgar
Organisational Structures | Technology and Science | Military, IT and Lifestyle consultancy | Social, Broadcast & Cross Media | Flying aircraft