https://www.youtube.com/watch?v=VWXf6EsfZ4c&t=62s

Mount your Virpil Throttle and Stick to linear rails so you can slide them along your desk.
This allows you to move your HOTAS aside when you use the computer for other work.
When flying your aircraft or spaceship, a spring-loaded locking meachanism holds your HOTAS securely in place.

The files are designed for the VPC Desk Mount V2/V3:
https://virpil-controls.eu/vpc-desk-mount-angled-adapter-mt-50-throttle.html
which is compatible with the VPC MongoosT-50 Throttle.

An adapter plate for Virpil Flightsticks (VPC WarBRD Base) is included (with and without a mounting option for the 15 button Elgato Stream Deck (MK.1). MongoosT Base untested.
Source: Virpil VPC Desk Mount linear rail adapter for MongoosT / WarBRD / Stream Deck by SciMonster – Thingiverse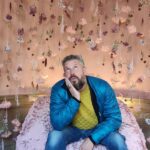 Robin Edgar
Organisational Structures | Technology and Science | Military, IT and Lifestyle consultancy | Social, Broadcast & Cross Media | Flying aircraft