In the wake of the onslaught of the covid-19, employees across the world grew chummy with a perfectly appropriate remote work schedule that allows them to work from home. However, one of the companies that carried pandemic digital infrastructure on its back, Zoom, isn't too keen on keeping remote workers away from the office since the video calling platform is making them too friendly, according to leaked audio of CEO Eric Yuan at an all-hands meeting at the company.

Insider first reported on the recording in which Yuan told employees within 50 miles of an office that they must report to the office a minimum of two days a week. The announcement came at a companywide meeting on August 3, during which Yuan said that it's difficult for Zoomies—the pet name the company gives to employees—to build trust with each other on a computer screen. Yuan also reportedly added that it's difficult to have innovative conversations and debates on the company's own platform because it makes people too friendly.

"Over the past several years, we've hired so many new 'Zoomies' that it's really hard to build trust," Yuan said in the audio. "We cannot have a great conversation. We cannot debate each other well because everyone tends to be very friendly when you join a Zoom call."

Zoom did not immediately return Gizmodo's request for comment on the audio or when employees are expected to return to the office.

Yuan's proposed hybrid schedule is not a huge ask as a lot of competently run companies are finding a happy medium between remote work and wholly in-office routine through hybrid arrangements. Yuan's comments, however, point more toward the company's beliefs in the ability of its platform—it makes you too friendly and is unable to help you build trust with the guests on your call or help you innovate.

While Yuan may have put his foot in his mouth, he is far from the first tech CEO to ask employees to return to office post-covid-19 lockdowns. Earlier this summer, Meta CEO Mark Zuckerberg mandated three days per week in the office for his employees, while Apple has reportedly begun taking attendance of those in the office. Some companies, however, have seen plenty of friction in mandating a return to in-office work, like Amazon, whose employees have staged a walkout in protest. During the height of the pandemic, a majority of big tech companies and their employees saw the promise in a completely remote schedule, which was touted as a massive perk during a hiring boom and helped these companies grow exponentially. Now that the likes of Zoom, Amazon, and Meta are scaling back on that perk, they may be facing increasing backlash from their workforce.
Source: Zoom CEO Says It's Hard to Build Trust Over Zoom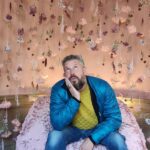 Robin Edgar
Organisational Structures | Technology and Science | Military, IT and Lifestyle consultancy | Social, Broadcast & Cross Media | Flying aircraft