The Cybersecurity and Infrastructure Security Agency (CISA), the Federal Bureau of Investigation (FBI), the National Security Agency (NSA), and the cybersecurity authorities of Australia, Canada, United Kingdom, Germany, Netherlands, and New Zealand (CERT NZ, NCSC-NZ

) published today "Shifting the Balance of Cybersecurity Risk: Principles and Approaches for Security-by-Design and -Default." This joint guidance urges software manufacturers to take urgent steps necessary to ship products that are secure-by-design and -default.  To create a future where technology and associated products are safe for customers, the authoring agencies urge manufacturers to revamp their design and development programs to permit only secure-by-design and -default products to be shipped to customers.

This guidance, the first of its kind, is intended to catalyze progress toward further investments and cultural shifts necessary to achieve a safe and secure future. In addition to specific technical recommendations, this guidance outlines several core principles to guide software manufacturers in building software security into their design processes prior to developing, configuring, and shipping their products, including:

Take ownership of the security outcomes of their technology products, shifting the burden of security from the customers. A secure configuration should be the default baseline, in which products automatically enable the most important security controls needed to protect enterprises from malicious cyber actors.
Embrace radical transparency and accountability—for example, by ensuring vulnerability advisories and associated common vulnerability and exposure (CVE) records are complete and accurate.
Build the right organizational structure by providing executive level commitment for software manufacturers to prioritize security as a critical element of product development.

[…]

With this joint guide, the authoring agencies seek to progress an international conversation about key priorities, investments, and decisions necessary to achieve a future where technology is safe, secure, and resilient by design and default. Feedback on this guide is welcome and can be sent to SecureByDesign@cisa.dhs.gov.
Source: U.S. and International Partners Publish Secure-by-Design and -Default Principles and Approaches    | CISA
Not having the guide linked in the press release means people have to search for it, which means it's a great target for an attack. Not really secure at all!
So I have the link to the PDF guide, it's here.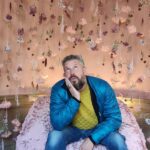 Robin Edgar
Organisational Structures | Technology and Science | Military, IT and Lifestyle consultancy | Social, Broadcast & Cross Media | Flying aircraft