Futura Medical is a UK-based pharmaceutical. The company's flagship development is a proprietary gel technology called DermaSys, and its first launch product based on the tech is a treatment for erectile dysfunction. The ED gel has been codenamed MED3000 but it will be sold under the name Eroxon. It's classified as a medical device and will not require a prescription to obtain.

Eroxon is said to work by containing volatile solvents that evaporate when applied to the glans, the head of the penis. These solvents create a quickly cooling and then warming effect that stimulates the highly sensitive nerves of the penis, which then leads to a boost in the production of nitric oxide, a molecule with many roles in the body—including the relaxation of smooth muscle and increased blood flow in the penis that makes an erection possible.

The pivotal phase III clinical trial that secured the FDA's authorization involved about 100 men with mild to severe ED. The men were randomized to receive the gel or the lowest prescribed dose of oral tadalafil, the active ingredient in the popular ED drug Cialis.

The trial met all of the primary and secondary goals, with the gel significantly improving men's erectile function on average. The gel was overall less effective than tadalafil, but its effects were felt much sooner, working within 10 minutes (it typically takes at least a half hour for tadalafil and similar ED treatments). And while both drugs were safe to take, Eroxon also appeared to provide far fewer side effects. Headaches, one of the most common adverse events in the trial, were experienced by four percent of Eroxon users, compared to about 20% of tadalafil users. About one percent of Eroxon users reported a localized burning sensation as well.

The FDA's go-ahead is the latest victory for the company and MED3000. The gel has already received authorization from the European Union, the UK, and parts of the Middle East. It has since launched in the UK, where it's being sold as a package of four doses for about $30. The company is also expected to launch the gel in physical EU stores sometime this year. But there isn't a clear launch timeline or pricing for the product in the U.S. just yet. According to CNN, some financial analysts predict that it might take until 2025 for Americans to get their hold on Eroxon.
Source: There's Now an OTC Gel for Erectile Dysfunction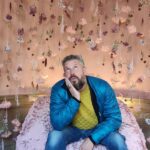 Robin Edgar
Organisational Structures | Technology and Science | Military, IT and Lifestyle consultancy | Social, Broadcast & Cross Media | Flying aircraft