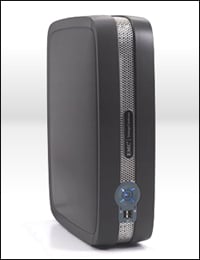 There's nothing wrong in theory with a vendor that caters to large corporations having a crack at the consumer market.
Yet perhaps in being so dependent on the colossal proportions of Brobdingnag, one loses a true sense of scale for the outside world. Ditching metaphors: data centers are willing to spend a lot on hardware. Your average household, not so much.
So here's EMC's first product designed, tested, manufactured and sold in a single country outside of the US. It's the 4TB network storage box, the StorageCredenza, today being introduced for Chinese — and at the moment only Chinese —consumers.
EMC says a household can get their hands on the basic model with one terabyte capacity (4x 250GB SATA drives) for only 8,980 yuan.