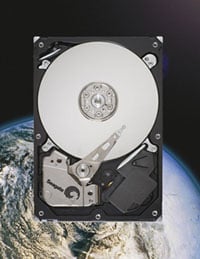 Seagate drive in orbit, why not?
Seagate has begun shipping what it says is the world's first 1TB SAS hard drives, as well as the first self-encrypting enterprise-oriented hard drives.
The 3.5-inch Barracuda ES.2 HDD series now comes in a serial-attached SCSI interface and 1TB capacity. Seagate estimates the speedier SAS data transfer rate offers an average 135 per cent performance boost over the SATA interface. The 1TB SATA version of Barracuda began shipping last year.
Today's "official" introduction of 1TB SAS hard drives should offer a tempting combination of capacity and performance for high-end storage operators armed with an enlarged coin purse. Seagate is pitching the whole ordeal as a value from a cost-per-GB basis.
The Barracuda ES.2 series of SAS drives spin at 7200 rpm, and advertise a 1.2 million hours mean time between failure. The drive uses a 16MB cache and has an average latency of 4.16ms. Average random seek time is 8.5ms and random write speed is 9.5ms. Models are also available in 500GB and 750GB capacity with both SAS and SATA interfaces.
Seagate doesn't list a price for the 1TB whopper, although our internet window shopping suggests around $350 per drive. That's about a $50 premium over the similar SATA model.
Seagate has also announced a new version of its Cheetah HDD lineup for data centers that features automatic encryption technology baked into the drive's controller.
The 3.5-inch Cheetah 15k.6 FDE (Full Disk Encryption) comes in 450GB, 300GB, and 147GB flavors with both SAS and Fibre Channel interfaces.
Earlier this year, the company began putting automatic data encryption into laptop drives. Seagate has stated it expects the technology to become standard for all hard drives.
The drives will ship to OEM suppliers this quarter. They should start popping up in vendor arrays later this year. ®