GSK will pay 23andMe $20 million for access to the genetic-testing company's vast trove of consumer DNA data, extending a five-year collaboration that's allowed the drugmaker to mine genetic data as it researches new medications.

Under the new agreement, 23andMe will provide GSK with one year of access to anonymized DNA data from the approximately 80% of gene-testing customers who have agreed to share their information for research, 23andMe said in a statement Monday. The genetic-testing company will also provide data-analysis services to GSK.

23andMe is best known for its DNA-testing kits that give customers ancestry and health information. But the DNA it collects is also valuable, including for scientific research. With information from more than 14 million customers, the only data sets that rival the size of the 23andMe library belong to Ancestry.com and the Chinese government. The idea for drugmakers is to comb the data for hints about genetic pathways that might be at the root of disease, which could significantly speed up the long, slow process of drug development. GSK and 23andMe have already taken one potential medication to clinical trials: a cancer drug that works to block CD96, a protein that helps modulate the body's immune responses. It entered that testing phase in four years, compared to an industry average of about seven years. Overall, the partnership between GSK and 23andMe has produced more than 50 new drug targets, according to the statement.

The new agreement changes some components of the collaboration. Any discoveries GSK makes with the 23andMe data will now be solely owned by the British pharmaceutical giant, while the genetic-testing company will be eligible for royalties on some projects. In the past, the two companies pursued new drug targets jointly. GSK's new deal with 23andMe is also non-exclusive, leaving the genetic-testing company free to license its database to other drugmakers.
Source: Drugmakers Are Set To Pay 23andMe Millions To Access Consumer DNA – Slashdot
So – you paid for a DNA test and it turns out you didn't think of the privacy aspect at all. Neither did you think up that you gave up your families DNA. Or that you can't actually change your DNA either. Well done. It's being spread all over the place. And no, the data is not anonymous – DNA is the most personal information you can give up ever.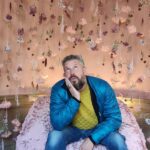 Robin Edgar
Organisational Structures | Technology and Science | Military, IT and Lifestyle consultancy | Social, Broadcast & Cross Media | Flying aircraft